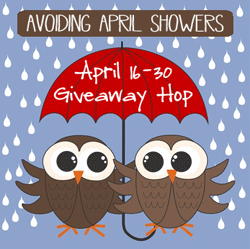 I am super excited to say that I now have the whole month of April booked with Event Giveaways!!! So there will be lots of great prize packages coming your way so keep your eyes peeled!!! Also if you are a fellow blogger i'd like you to pay attention to this post as well as my previous one!! This another great event looking for bloggers!!
Avoiding April Showers is a Giveaway Hop being hosted by
Put A Little Umbrella In Your Drink
,
Seeds of Life
and
Taking Time for Mommy
, &
and the little ones too
! It runs from April 16 – 30.
It is easy to join if you are a blogger! All you have to do is, either create a blog post telling other bloggers about this event OR pay a $5 administration fee to oldcityreds@aol.com as a gift. If you don't want to send it as a gift just add 50 cents. So there is NO FEE to sign up as long as you create a blog post about the event. Do not delete the blog post.
And last but not least: This event is limited to 150 blogs so enter as early as you can. Now go fill out the form and have fun!