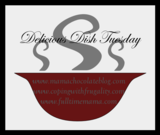 Welcome to another Delicious Dish Tuesday hosted by
Full Tima Mama
,
Coping with Frugality
, and
Mama Chocolate
. This is a blog hop for and about delicious food!
Pumpkins class is having a Thanksgiving Party/Meal tomorrow so we went and made everyone these really cute Turkey cookies. The one cookie we made a little different because his one friend can not have red food dye so instead of candy corn on hers we used raisins and cupcake sprinkles. :-)


Recipe from Taste of Home Magazine...


What You Need:

1 pkg (12oz) semisweet chocolate chips
1 pkg (11 oz) candy corn - Wal-Mart sells it year round in the candy aisle
1 pkg fudge striped cookies
1/4 cup butter, cubed
1/4 cup peanut butter - optional (I use peanut butter in my rice kripies)
4 cups mini marshmallows
6 cups crisp rice cereal


What To Do:
1. In a microwave, melt chocolate chips; stir until smooth. For tails, use a dab of chocolate to attach five candy corns in a fan shape to the chocolate side of half of the cookies; refrigerate until set.
2. In a large saucepan, melt butter and add peanut butter if your using it. Add marshmallows; stir over low heat until melted. Stir in ceeal. Cool for 10 minutes. With buttered hands, form cereal mixture into 1 1/2-in balls.
3. Remelt chocolate if needed. Using chocolate, attach the cereal balls to the chocolate side of the remaining cookies. Position tails perpendicular to the base cookies; attach with chocolate. Refrigerate until set.
4. For feet, cut off white tips from 32 candy corns; discard tips. (or eat them) Attach feet to base cookies with chocolate. Attach one candy corn to each cereal ball for heads.
Store in an airtight container.
Makes 16 cookies
Cook: 5 min
Prep: 30 min