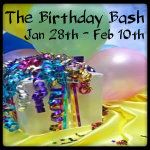 With Sweet Pea's 2nd Birthday right around the corner it made me want to do a Birthday themed Blog Hop! I hope you will join me in this fun event...
Event Details:
Dates:
January 28 - February 10, 2013
Price:
FREE!
Prize Requirements: There is no requirement for this event but all I ask is please try to be at least $20 and that the prizes be either party supplies or items that could be used as gifts. (examples: party supplies, t-shirts with number on them, gift ideas, etc...)
Hashtag:
#BdayBash
While it's not required that you post about this giveaway on your blog, it would be greatly appreciated if you wrote a short post about the hop and shared it on Facebook and Twitter so we can make this event a huge success!
To sign up:
Grab the button.

Help promote! #BdayBash

Join the Andersons Giveaways Facebook Group
*Feel free to use the information in this blog post in your own posts about this event!*